LESSONS
with sound files and diagrams!
BEGINNER
Finger Exercises They help with your finger mobility, flexibility, move ability, and agility. With finger exercises, you'll be able to play more precisely, faster, consistently, and longer.
Know Your Guitar Guitar anatomy and fretboard chart.
Tablature Explanation A guide to tablature symbols.
Tuning Your Guitar You have to know how to tune your guitar before you can play it!
Tune Up Before you play along with the songs on this site, you'll need to make sure your guitar is in tune.
Warm-up Exercises Why study warm-up exercises? Because we all need them. You should really start off your practice time with a warm-up routine, starting off slowly and gradually build up speed.
NOVICE
Blues Intros And Outros Here are different licks used throughout the Blues community.
The Capo What's a capo do for you? Does it matter where I place it? FIND OUT!
Double Stops Would you like to add a rockabilly or country flare to your riffs?
Reading Music Notation Learn how to read music notation!
Music Notation PART 2 Move one step further in music reading!
ADVANCED
Arpeggios Do you ever get tired of strumming through every song?
'EMaj' Scale If you are able to play a specific note in four or five places, you have the ability to stay fresh during solo opportunities.
Guitar Tuning Chart A comprehensive chart showing 26 different tunings. You can also load the printable version.
'GMaj' Scales/Chords Explore the Gmaj scale in different locations of the fret board, and see how it fits into the Gmaj scale in the same area of the fret board. This will consist of three parts.
Soloing Over The Bass Line Put fills in around the bass line.
PROFICIENT
Finger Pickin' Good Finger picking requires coordination and endurance, and lots of both. You'll be able to play arpeggios faster with your fingers than with a pick.
Tips And Tricks There are a number of tips and tricks you can learn from playing with other people, reading articles, and playing different musical styles. There are tricks with picking patterns, effects units, and song reading, and more.
Walking Bass Lines It's 12 bar blues in 'E'.
JAM-ALONG TRACKS
12Bar Shuffle It's 12 bar blues in 'E'. (Bass, Rhythm, and Drums.)
31 March, 2003
Hello, and welcome to Hofherr's On-Line Guitar Lessons. This site is for those aspiring musicians, both beginners and long-time players, willing to learn and put forth effort. I've made the move to Cocoa Beach, Florida. Most everything is in order by now. I have posted a Tuning Chart.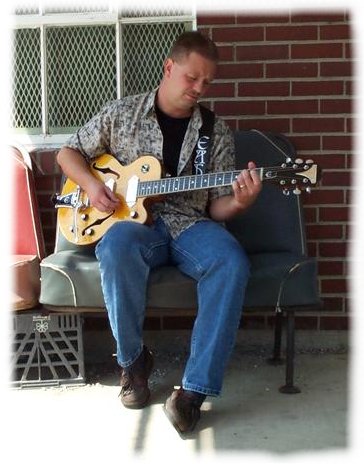 Look below for the update(s). Sign up for the mailing list.
About the lessons:
FREE, useful lessons for guitar players ranging from the beginner to the proficient. Most lessons have midi files laced throughout. You are welcome to use any part as teaching aids. Before you try a lesson, is your guitar in tune? Find out and tune it before you begin any lesson. Configure your MIDI player if it doesn't sound very good.
Why Me?
So why learn from me? Well, I've been playing for a little over 16 years, and am fluent with 6 and 12 string acoustics and electrics (playing both rhythm and lead), sight reading, writing both words and music, arranging, and most importantly, I enjoy playing music. I can play the slide guitar and piano to some degree, and am okay on the drums, too. I build and repair guitars, I play in the Praise Team at Eacy Coast Christian Center, Florida, and you'll see me at open-mics and jam sessions in the local area. And once again, my lessons are FREE!
--- -- --- -- --- Q & A --- -- --- -- ---
YOU ASKED: What is the difference between guitar strings? John P., Washington State
ANSWER: There are three different types of string windings: ROUNDWOUND, FLATWOUND, and GROUNDWOUND. Roundwounds strings are the most commonly used on electric and acoustic guitars. They are wound using conventional round wire with the characteristic ridge-like feel. They produce the brightest treble sound.
Flatwound strings (a core surrounded by a flat ribbon of metal) are often used on archtop guitars. They give a smooth feel and produce a less bright tone. They don't last as long and have a tendency of cracking. The main advantage is they cut down on finger noise.
Groundwound strings are an attempt to combine the advantages of both round and flat wound strings. They are essentially roundwound strings ground down so that the surface is partially flat.
Strings are not only wound differently, but they also come in different sizes or guages. Lighter strings are easier to hold down and bend, and are not as harsh on fingertips. Heavier guage strings produce more volume and longer sustain.
Got a question for me? Email it to me.
24September: Tuning Chart: A Comprehensive guide to alternate tunings!
Check out the PRINTABLE TUNING CHART
20January: The first Jam-Along Track is online! It's a 12 Bar Shuffle in E!
26January: Music Notation Part 2: Move out of the staff, then download 4 quizzes!
27June: Guest Map added! Show where you live or locate other musicians in your area!
27June: Classified Ads added! Sell or buy your music gear here.
Coming in April.......
Advanced Double Stops and More Jam-Along Tracks!
I've added a webring to the site, and am looking for other interested web masters with music-related sites.
You're more than welcome to view my Woodworking pages, too. There you'll find not only guitars, but also military retirement cases, plaques, clocks, and more!
Do you have a suggestion for me? Perhaps you have friendly criticism to give me. Is there something you like about this website? E-mail this page to your friend(s)! If you have a contribution that you feel others would be interested in, please read the contributor page.
Messages posted: 31Mar2003
Enter to win one of two Copper-Sparkle Telecaster guitars! READ MORE
Messages posted: 31Mar2003
The most flexible all tube series of amps and preamps ever created. Randall Amplifiers and legendary amp guru Bruce Egnater have joined forces in designing the new MTS series. The series includes the RM4 preamp, RM50 combo amp and many ampplifier modules.
Messages posted: 12Oct2002
Gibson celebrated the 100th anniversary of Orville Gibson's first instrument back in 1994, but the 100th anniversary of the Gibson company was October 11. While working in his tiny Kalamazoo, Michigan shop on a hot summer...[MORE]
Orville Gibson
MP3 search added 23Sep2002
Messages posted: 18Aug2002
I've made it to Florida!
Well, I'm here in sunny Florida, and everything is great! I've found a house (but don't have everything put away yet!), and had the fortunate opportunity to jam with some guys from the shop I'm working at. You can't beat that for being here a couple of weeks! Select the photos to see the full size.
Messages posted: 16Jun2002
I have started a webring called FretBoards. If you are interested in joining, then go HERE, or email me. It's free, small so it doesn't take up a lot of space on your site, plus it's a great way to widen your viewer base.
The following messages were posted: 24Dec2001
USA Songwriting Competition, the world's leading international songwriting event honors songwriters, composers, bands, recording artists everywhere. Winners will be selected by a Blue Ribbon committee of music industry judges including record label publishers, producers from SONY Music, Warner/Reprise Records, etc. This is a chance to be discovered by the biggest names in the music business. A shot at the big time for unsung songwriters and original solo artists and indie bands everywhere around the world. A contest that might just open the right doors, make the right connections and get your songs heard. Also, winning songs will be receive radio airplay (the first for any songwriting competition!). This is a songwriting competition that gives you the clout it takes to make it! [CHECK IT OUT!]